Project and communicate with your customers
RGB is an internationally recognized color model that is based on three colors: Red (R), Green (G) and Blue (B). It is an additive system because by adding these colors you get the others.
RGB dISPLAY P3.91 - P4.81
Our RGB displays are extremely customizable products that adapt to every need and use. The "base" module is 50x50cm and can be added to other modules to reach the desired size.
Our screens are able to project any image (PNG, JPG), video (MP4), alphanumeric information, time and date in analog and digital format. The graphics is directly customizable by the user and allows your communication to be effective.
MODULABLE
INDOOR/OUTDOOR
CABINET ULTRA LIGHT
CUSTOMIZABLE DIMENSIONS
The Display features a high contrast ratio of 4000: 1, capable of reproducing  high quality images,  even in low light conditions. The RGB LED displays are equipped with systems that allow good heat dispersion thus ensuringun energy saving and a visualization of the contents in high definition for a unique visual experience. 
We are able to provide two degrees of protection:
IP54 

 indoor;

IP65 

outdoor;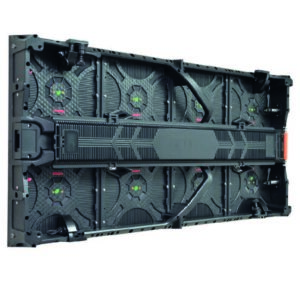 AN INNOVATIVE STRUCTURAL DESIGN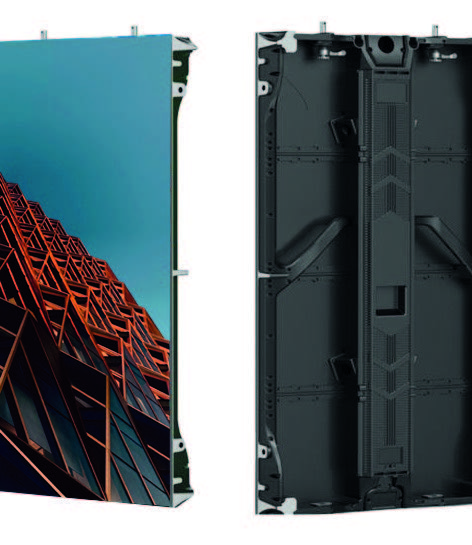 RGB displays feature a very thin and light structure obtained from a special magnesium alloy.
RGB displays feature different technologies that offer perfect, natural and brilliant colors.
LED displays can be installed in any area, without requiring a lot of space. The weight of each panel is 13 kg.
The highly customizable structure allows the end user to create modular displays even with a curved design,  thanks to special supports that allow angle adjustment up to 20°.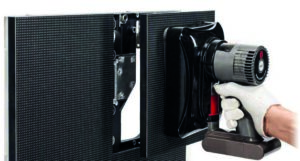 1. MAGNETIC MODULES
RGB displays can be composed of cabinets of 500x500 mm, 500x1000 mm e 250x1000 mm .The magnetic modules, removable from the front, allow quick and easy installation and maintenance.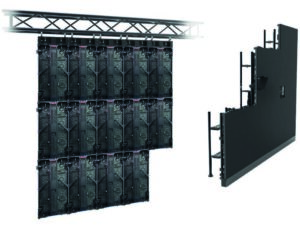 2. STRCTURE
The LED displays are customizable and modular according to different sizes. The very thin and light structure it is also suitable for suspended installations. The viewing angle reaches up to 140 ° to ensure a natural and clear vision of the display.
Our RGB displays are customizable products according to the customer's request. They consist of LED grids and represent the right means of communication for the management of videos, multimedia contents and images. The RGB Display consists of modules of 320x160mm and are available with two pixel pitch 6.67mm and 10mm.
Our outdoor RGB displays are used in fixed installation contexts, such as in corporate events, trade fairs, congresses, for B2B services  or to advertise your brand or content.They also represent the ideal solution in applications for sports environments, cultural events or installations on roofs with the aim of increasing their advertising target. 
OUTDOOR VERSION: IP65 PROTECTION DEGREE
IP65 waterproof protection on the front side ensures continuous and stable operation in all types of outdoor environments. This product withstands bad weather ensuring a yield in the most difficult weather conditions.
The lightness of the panel, only 21 kg, it allows easy transport thanks to the retractable handle on the upper part of the display.
FIXED
to advertise visual and textual content
SUSPENSION
with quick locking connectors for easy installation
PERIMETER
thanks to the addition of a rubber cushion and a bracket
The LED eye displays support several types of connection.  Multimedia contents can be streamed to the display via the Wi-Fi net from any tablet, smartphone, PC or notebook. Content management takes place through software or cloud.
If you are using a PC, the data can be sent to the display via the RJ45 connector and use of the software. You can also connect your PC via HDMI cable.  The modular display has an internal archive where to store and save the contents sent by other electronic devices.