Time, date and weather forecast in one display
The Oro is a   digital clock  made by multicolor LED matrices modularly assembled in order to allow the customer to customize their display. Information, queen of the screen, can be communicated in different ways and times.
INFORMATION AT YOUR SERVICE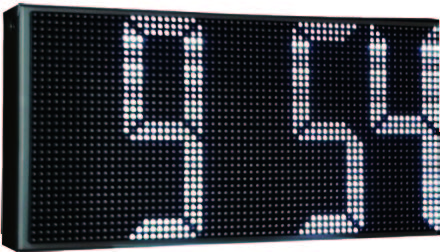 CLOCK FUNCTION
The Oro series allows you to view time and date always synchronized
TIME AND WEATHER FORECAST
Thanks to the connection to 3B Meteo you can also view the weather and temperature
MODELS AND DIMENSIONS aRE DIFFERENT ACCORDING TO YOUR NEEDS
The structure of the Serie Oro display is designed to be as simple as possible also as regards its maintenance. The modules that make up the display allow you to choose between various sizes based on the use you want to make of it
The ORO display series new generation offer innovative services compared to classic clocks / daters, transforming them into real information stations. Among the information included as standard you will have the possibility to configure the information by accessing a portal from PC, smartphone or tablet.
The information is configurable in terms of color, type of information, time spent on the page and written on 1 or 2 lines. The main features are as follows:
It is possible to integrate the display functions with two options:
Informazioni rSS
Ability to display automatically the last news on the lower banner of the display. The information will be updated every 15 minutes by the main newspapers.  
temperature probe
For higher accuracy, the display can be connected to an external probe for an even more live temperature reading.
It is also possible through a simple WEB interface customize  the clock. All the panels, in fact, are connected 24/24 to a portal to manage with maximum freedom the information of date, time, temperature, weather forecasts, news, weather alerts and much more.
NOVITÀ
The product includes the supply of a three-phase instrument with reading up to 65A direct